Magellan GPS 315
Featured: November, 2002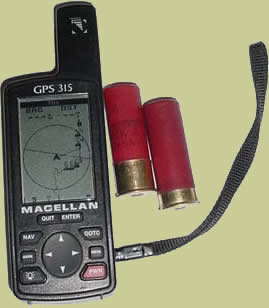 A global positioning system (GPS) can be a great benefit to the hunter or outdoor enthusiast. It's another tool that makes our outdoor experiences more enjoyable and safer. While it's no replacement for a compass, it certainly is a complement to the tried and true navigation device. Now that GPS's are very affordable (often less than $100), there's no reason why it can't become a valuable tool in your 'game bag'.
The first thing you notice about the Magellan 315 is its small size and light weight -- weighing only 6.5 oz. The unit requires only two AA batteries as compared to four for a lot of other small GPS units -- giving you up to 15 hours of use. It also easily fits into your pants pocket at only 6.0" (h) x 2.0" (w) x 1.3" (d).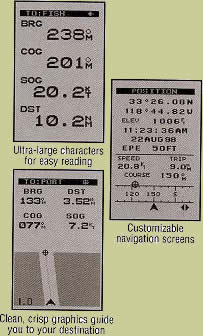 Being an avid outdoorsman, I'm always looking for new products that help me get the most of my outdoor experience. I always carry maps of my hunting areas and I enjoy using a GPS to figure my location; find a favorite deer stand or anticipated route through the woods. It's also invaluable when trying to find the truck at the end of the day, when in a strange area.
The GPS 315 will operate anywhere in the world. The receiver locks on to up to 12 satellites to compute your original position in less than one minute and will update your position every second.
I don't want to get too bogged down in vital details, but here are some of the unit's statistics...
12 channel parallel receiver.
Backlit display with 2 levels of brightness ultra high-resolution display, (104w x 160h pixels). 4 levels of gray scale to adjust contrast.
Nine graphic navigation screens (customizable), which clearly show speed, heading, distance, bearing to waypoint, position, etc. Screen size: 2.2"h x 1.33"w. 2 position screens so two grids can be displayed at the same time.
External power capability using 9 - 16 VDC.
Low battery alarm sounds with 2 to 3 hours left on batteries - allowing ample time to replace the two AA batteries.
10-year lithium memory backup.
500 waypoints/landmarks. Altitude information is saved with the waypoints.
20 routes with 30 legs, 12 route names.
Waypoint name character limit: 6.
Waypoint Messaging: 20 characters.
Automatically averages your position while standing.
60 seconds cold start satellite acquisition time; 15 seconds warm start.
Landmark projection
Accuracy to position, 49 ft. (15 meters)
Backtrack Function, with "save as route" option.
"Northfinder" displays sun and moon positions, allowing you to quickly determine your desired direction while standing still. Compass settings are Magnetic, True, and degrees/mils.
Re-settable trip odometer
Fish and Hunt calculator - a modern version of the solunar tables, which predict periods of the highest activity in the animal kingdom. The validity of this data is debatable, but some folks swear by this information.
Sunrise/Sunset calculation
NMEA data output and DGPS ready. You can upload/download tracklogs, waypoints and routes for virtually anywhere on the globe.
Unit is waterproof and it floats - even if battery compartment becomes flooded.
Unit comes pre-loaded with a 15,000 point worldwide city database, which can be updated to include POI (Points of Interest), or Nautical Nav-Aids using the optional DataSend CD-ROM, wrist strap, owners manual and quick reference guide.
All Magellan products are warrantied for a period of one year from the date of original purchase.
Average speed indicator.
A compass screen containing a unique display of the sun and moon positions (when above the horizon). With this information, one can point the sun icon to the sun (or moon icon to the moon) and determine true north without the necessity of moving or using a compensating compass. Not a great help on an overcast day, but a nice feature nonetheless. Note: always bring your old fashion compass -- they ALWAYS work - even without batteries.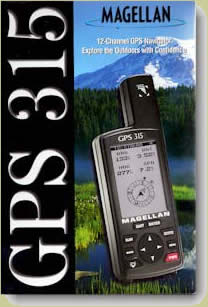 It does take longer to lock on to the satellites when in the thick cover, but usually not more than 1 or 2 minutes. It's a very good GPS - suitable for the beginning GPS user and the demanding navigator as well. It's definitely not a toy. Despite its small size, the 315 proved to be a very powerful GPS unit, with many features for its price (<$150 US).
It's extremely easy to get used to basic operation. Pressing the MARK button once creates waypoints; the waypoint name can then be edited by changing as few as one letter. One push of the PWR button is all that's required to turn the power off, but there is a failsafe in that all you have to do is press any button on the unit within 5 seconds and it will stay on.
The Magellan GPS 315 has a suggested retail price of $149.99, and a street price of about $125.
Ships with: wrist strap, 2 AA batteries, and user manual.
Summary: A great GPS. If you are in the market for a GPS receiver, the 315 offers a great price, low weight, efficient battery consumption, and all the features you'll need in a basic GPS. Despite its low weight, the unit's durable construction means it will take a beating. The features are simple to use and this receiver has all of the basics that you need to navigate in the outdoors.
Available options: windscreen mount, protective leather case.
For more information, contact:
Magellan
960 Overland Court
San Dimas, CA 91773
(909)394-5000
Magellan's Website
To inquire about your product being reviewed, please contact:
Chris Miller
Miller Outdoors :: Guide Service
1185 NH Rt. 16
Dummer, NH 03588
website: MillerOutdoors.com
e-mail: contact@milleroutdoors.com