Snowshoe Hare Hunt with Beagles
Our snowshoe hare hunts are enjoyed by all. Couple the fast action with the beautiful hound music and you're sure to have an enjoyable hunt. We encourage you to bring a young hunter Free*. This helps to provide positive, exciting activities for young hunters and helps to ensure the future of hunting. You'll all have a great time and will take back some great memories of a fast-action NH adventure.

See our all new Heavy Hare Contest!
To sign up for our Snowshoe Hare Hunting Newsletter click here.
We feature two types of rabbit hunts...
*Lodging available* Click here for details.
Hunt availability:
Use the "contact us" link to inquire about availability.

Join us on an old fashion rabbit hunt!

Limited availability of half-day or 1-day hunts, so contact us soon!
Contact us today, and you'll be enjoying 'hound music' and banging at bunnies before you know it!
What's included:

Personalized service (one guide for your group, and only your group, with you all day).
Hunt over our hounds. You're welcome to bring your hounds and run them with ours, if you like.
Lodging available for additional $33 per person/night
Half day hunts are sometimes available for 30% off the standard full day rate listed below.

Hunt Cost:

1 hunter

These rates effective 1/1/2012


$280/day

2 hunters

$150/day, per hunter

3 hunters

$110/day, per hunter

4 hunters

$90/day, per hunter

5+ hunters

$75/day, per hunter

**10% discount for 2+ day hunts that include all weekdays (no weekends).

All rates are subject to change without notice.

Contact us today, and you'll be enjoying a great hunt before you know it!
What's included:

We provide you with one good spot for each day of hunting.
We take you in each morning and make sure you get a good start.
Hunt over your hounds only.
Lodging available for additional $33 per person/night - with kennel space for up to 12 of your hounds.

Hunt Cost:

Base rate

$110/day for 1 - 4 hunters

add $25 per day for each addional hunter over 4

All rates are subject to change without notice.
Come deep snows, the Arctic Cat waits to take us back into
otherwise unreachable snowshoe hare hunting areas!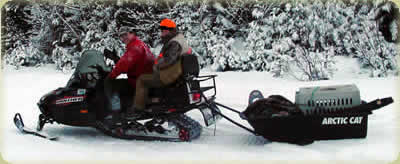 The Hunt: These hounds get themselves into a frenzy to find game for you. They'll keep the hare moving, giving you an opportunity for a shot. The excitement heightens as you hear the dogs beginning to turn and start your way. There he is!... take him!... If a shot is missed or the hare slides through unseen; don't worry about it, these hounds will bring him back around. These beagles truly make your hunt. They are trained with one purpose; find a rabbit and pursue him until he is harvested.
We pre-scout our snowshoe territory to ensure that the opportunity exists for all of our hunters to fill their bag limit. Our beagles are outfitted with radio tracking collars so we do not waste valuable hunting time looking for lost dogs. The hunting is usually very good in all open seasons, Fall, Winter and early Spring. In years with late coming snow or early melt off you are presented with white hare on bare ground... You haven't lived until you've seen this ....it doesn't get any better!
*Young Hunters Free: Young hunters, up to age 17, hunt with us at NO CHARGE. These hunters MUST posses basic hunting safety knowledge, be licensed if applicable by law, and be accompanied by a parent or guardian. Only one free young hunter per paid adult. Free young hunters do not count in total number of hunters for group rates or discounts.
Season Dates: October 1st - March 31th.
License Requirement and Cost: 3-day non-resident small game license is $27.50.
Click here for NH hunting license rates and to buy your license online.
Deposit Required: 50% deposit must be received within 10 days of booking hunt. The balance is due upon arrival. Deposits are necessary to hold your date(s) of hunting. Due to the fact that your deposit secures our services for a specific time; unless we can book someone in your place, it will not be refundable.
Bag Limit: 3 per day / per hunter
Gear to Bring: Orange cap or vest, compass, hunting knife, waterproof outerwear, waterproof boots - all according to season. Anytime after December 1 snowshoes may be necessary. Shotgun - .410 and up, ammo #4, #6 or #7-1/2 hi-brass (#6 is good all-around load), cooler for rabbits, camera and/or camcorder--and plenty of film.
Click here for more of our rabbit hunting and beagle photos
Click here to watch some video clips of our hounds in action!
Click here to read some of our published rabbit hunting and Beagle training related articles
Hunting the Snowshoe Hare
The beautiful music of the pounding Beagles pierced through the cold winter air like an orchestra. I could hear the dogs getting closer and feel the excitement building. The bawls were so loud now that I forgot about the woodpecker and red squirrel I had been admiring only moments before. My eyes were glued in the direction of the beagle pack, straining to pick up any movement of the oncoming hare. Like a ghost, a silent white form appeared from beneath the low-hanging limbs of a hemlock. When I moved to shoulder my scattergun, the hare bolted. I touched off the front trigger of my double barrel 'BANG', a clean miss, 'BANG', and the woods went silent for a few seconds. I left the hare setting in his last footprint until the bellowing Beagles unraveled his erratic back trail and arrived on the scene, tails wagging, frantically looking for another track.
Hunting the hare, or what's better known as the "snowshoe" is a winter tradition up north. Throughout most of northern New England the word snowshoe means rabbit hunting and outdoor fun. There's nothing like a fresh snowfall and playing 'chess' with a crafty "snowshoe" to make the winter seem a lot shorter.
Guns and Loads for Snowshoes
A cottontail rabbit is a pretty easy animal to dispatch. Any shotgun is capable of making clean kills at the ranges most cottontails are shot. The snowshoe rabbit (varying hare) is a much larger animal, and is typically shot at greater distances, than the cottontail. A shotgun capable of handling heavy loads and shot is well advised for hare hunting; especially in mid winter.
The standard 12 gauge is an ideal snowshoe weapon, although a 20, 16 or .410 in capable hands is deadly as well. An improved cylinder choke produces a formidable pattern when matched with a load of 1-1/4 ounces of No.'s 4 through 7-1/2 shot. This combination can be in the form of a single or double barrel, over-under, pump, or auto-loading shotgun.
Most times, I carry a 12 guage Russian made Baikal double barrel shotgun with 20 inch cylinder barrels (no choke at all). I prefer my scattergun outfitted with a sling. Weighing in at less than 6 lbs. this compact package is substantially lighter than most full-sized shotguns and ideally suited for hare hunting. Most folks would probably be better served with barrels of 24+ inches and a slightly tighter choke, but I find the quick handling, wide patterned shotgun suits the task well, as I'm not usually worried if the hare passes by out of my range. The dogs are sure to keep him going long enough to get into the right position -- sooner or later. The gun dishes out two quick shots and soft recoil that makes follow-up shots smooth. Those who prefer a pump-action shotgun can choose the Mossberg 500 or Remington 870 Special Field, to name a couple.
A fast-pointing over/under is also an excellent choice for quick stepping snowshoes. Screw-in choke tubes and selective triggers allow the hunter a choice of loads and chokes for specific shot opportunities. The best all-around choke choices are probably the improved cylinder and modified tubes.
A recent joy to discover was the Thompson Center Contender shotgun pistol. It has a 12" vent rib barrel and is chambered in .410, with a full choke. Anyone wanting an even greater challenge is encouraged to carry one of these jewels in a shoulder holster while hare hunting. It's capable of clean kills out to surprisingly long distances, and the extra light carry weight and having 2 hands free while walking is a very pleasant change. A load of 3" #6's or #4's can topple a showshoe at 30 yards and even a bit longer. There are substantially more misses with this setup, but the volume of kills aren't always of great importance when enjoying a day afield after these crafty snowshoe hare.
Snowshoe hunting is good from the season opener in October until the season closes in early spring (March) -- weather permitting. Hare generally begin the gradual transformation from brown to white from late October until their full transformation somewhere near mid December.
The sounds of yelping beagles and the sight of a ghostlike snowshoe hare still make the hair stand up on the back of my neck.
Great snowshoe hare hunting awaits you. Contact us soon!
If you're interested in seeing a 2 hour DVD video of Snowshoe Hare hunting here in NH then visit the video section of our website and you could be enjoying hours of hare hunting and Beagle action right in your living room!
Contact us today, and you'll be enjoying a great snowshoe hare hunt before you know it!