So, you're headed on a winter snowshoe hare hunt...
Featured: January, 2004
What's needed, you ask, for a typical snowshoe hare hunt in cold, snowy weather? Don't go unprepared. Following are the essentials for getting the maximum enjoyment from your snowshoe hare hunt:
Clothing
The biggest thing to remember about cold wintertime snowshoe hunting is to dress in layers, because you can modify your clothing to suit the temperatures and conditions of the day. Whether it's 5 below zero or 35 degrees, you can add or shed light layers to suit the weather. Just make sure that you're dressed to be warm and comfortable for the day's weather conditions. Remember: it's better to have it and not need it than to need it and not have it, so if in doubt, bring it along. J
Boots
Waterproof is a must. Something rated for very cold weather. Light is better, but it's not advisable to sacrifice weight for warmth… make sure your feet don't get cold, because when/if they do the rest of the body is sure to follow. I prefer a Pac-type boot, with an insulating insert of some type, preferable wool. Nothing keeps your feet warm like a good pair of 'Sorel' type Pac boots.
Pants
The traditional brush pants that are necessary in the south aren't required while snowshoe hunting. It's unlikely that hunting snowshoes will find you in any sort of briars. I find wool to be best. Even when wet, wool keeps you warm. Under the pants I like long underwear (wool can itch); the union suit type is what I prefer. All the better if it's the kind that wicks away moisture from the inside.
Coat
Again, I prefer wool, for it's quiet, insulating qualities. Because of the layer technique I use to keep warm in very cold weather, I like a lighter weight wool coat; something like the heavy duty Shirt-Jac made by Johnson Woolen Mills in Vermont. I like a turtleneck shirt (keeps falling snow out of my neck) over my long underwear, with a flannel shirt over that. From there I can add or subtract depending on how cold it is and what my activity level is going to be.
Hat
I like a baseball-type waterproof cap in all but the extreme cold weather. In the extreme cold (below about ten degrees), I like a traditional wool cap. If you're lucky enough to know someone who knits, you know the type I'm talking about. A red or orange wool knit hat has been a staple of mid-winter hare hunting for as long as I can remember.
Gloves or Mittens
Waterproof gloves are desirable if temps aren't too cold, but when temps drop I like a good set of leather mittens with a nice, thick wool insert. Mittens are a lot warmer than gloves, because your fingers aren't separated.
The inexpensive hand warmers that are available do an excellent job of providing warmth, should you need it. They last quite a few hours and can be just the thing to keep you from getting the jitters while waiting for Brier Rabbit to circle back around.
Snowshoes
Ah, the snowshoe… the bane of the wintertime hunter's existence. They're a must for keeping on top of the snow, but they're hated by nearly every rabbit hunter I know of.
Types of Snowshoes…

Bear Paw

- oval in shape, lacking tail - for use in thick woods and hilly areas - advantages: maneuverability - disadvantages: slower than other styles and not good for deep snow

Michigan (Maine or Beaver-tail)

- tear-drop shape, upturned toe, and a narrow tail - for use on trails or open woods - advantages: versatility, will work fairly well in most situations - disadvantages: clumsy in thick woods or in very deep, powdery snow - by far the most popular design

Alaskan (Trail, Yukon)

- extremely long and narrow, greatly upturned toe, and narrow tail. - for use in open areas and deep snow - advantages: handles deep snow, very fast, and tracts well over long distances - disadvantages: poor maneuverability
Snowshoes generally fall into two general categories, 'traditional' snowshoes and 'sport' snowshoes. The traditional snowshoes are made mostly of wood, while the newer sport snowshoes are made of aluminum, rubber, plastic and other lightweight materials.
Today there are basically three styles in widespread use.
Which One Is Best for hunting rabbits on Snow?
This will depend on the type of terrain you'll be on and the texture of the snow. Considering that most folks will only own one pair of snowshoes, and that pair will have to serve them on all types of snow conditions, I recommend the Beavertail design. It's a very versatile design and very popular among winter woodsmen. I don't like the aluminum type snowshoes because they're noisy and don't appear as durable as the traditional wood designs.
Firearms
Guns and Loads for Snowshoes...
A cottontail rabbit is a pretty easy animal to dispatch. Any shotgun is capable of making clean kills at the ranges most cottontails are shot. The snowshoe rabbit (varying hare) is a larger animal, and is typically shot at greater distances than the cottontail. A shotgun capable of handling heavy loads and shot is well advised for hare hunting; especially in mid winter.
The standard 12 gauge is an ideal snowshoe weapon, although a 16, 20, 28 or .410 in capable hands is deadly as well. A modified barrel produces a dense pattern when matched with a load of 1-1/4 ounces of No.'s 4, 5, 6 or 7-1/2 shot. This combination can be in the form of a single or double barrel, over-under, pump, or auto-loading shotgun.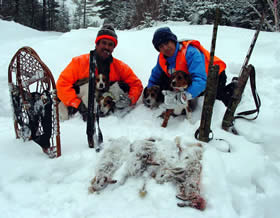 Most often, I carry a 12 guage double barrel shotgun with 20 inch improved cylinder barrels. I prefer my scattergun outfitted with a sling. Weighing in at less than 6 lbs. this compact package is substantially lighter than most full-sized shotguns and ideally suited for hare hunting. Most folks would probably be better served with barrels of 24 inches and modified patterns, but I find the quick handling, wide patterned shotgun suits the task well, as I'm not usually worried if the hare passes by out of my limited range. The dogs are sure to keep him going long enough to get into the right position -- sooner or later. The gun dishes out two quick shots and soft recoil that makes follow-up shots smooth. Those who prefer a pump-action shotgun can choose the Mossberg 500 or Remington 870 Special Field, to name a couple.
A fast-pointing over/under is also an excellent choice for the quick stepping hare. Screw-in choke tubes and selective triggers allow the hunter a choice of loads and chokes for specific shot opportunities. The best all-around choke choices are probably the improved cylinder and modified tubes, but again, a lot will depend on the terrain you're hunting in.
Miscellaneous
Compass
Don't ever go into the woods without a liquid filled compass, and always believe what it tells you. When there's snow covering the limbs of all trees around you it can seem like a winter wonderland, and it's easy to get turned around. Take a compass reading from the road, before you go into the woods, and take note of what the direction will be, back to the road, from the side of the road you're hunting on.
GPS
A Global Positioning System isn't mandatory, but it can come in handy.
Note: a GPS doesn't take the place of your traditional compass. Electronics have a way of letting you down when you need them most; your liquid-filled compass will always work. Don't forget extra batteries.
Waterproof Matches
They come in handy for many tasks.
VHF Radios
It's nice for everyone in the group to be able to keep in touch, and the small, lightweight 'Motorola-type' radios are just the thing. An earbud can be a big asset when using these radios, because nothing will turn an oncoming snowshoe hare faster than a loud voice on your radio. Also, don't forget extra batteries.
Snowmobile
While not necessary, it's an added advantage when you want to get into traditionally unreachable snowshoe hare covers. A good sled to pull your dogbox and gear on rounds out the package.

If you're in charge of the dogs…
Tracking system
Remember, your range will diminish when there's a lot of snow on tree branches, so take that into consideration.
Dog(s)
You can't forget the dogs! They're the ones that make your time in the snow-covered woods so enjoyable!
Snowshoe hunting is good all winter long; right through the season's end at the end of March, so get out there! The sounds of yelping beagles and the sight of a ghostlike snowshoe hare make even the coldest day enjoyable.
Enjoy your time in the North woods chasing "Snowshoe's"… there's nothing like it!
P.S. Take a youngster Snowshoe Hare hunting and you'll have a 'hare hunter' for life.
Chris Miller
Miller Outdoors
Guide Service
1185 NH Rt. 16
Dummer, NH 03588
www.MillerOutdoors.com
mail@milleroutdoors.com