Coyote Hunt
***We are no longer offering coyote hunts***
| | |
| --- | --- |
| | New Hampshire offers some great coyote hunting! Their exploding population has brought a relatively new yet unmatched form of predator hunting. Our adult coyotes range in size from 30 to over 50 pounds. Here in the north their color varies from blonde to a dark gray with black. Although coyotes are plentiful here, to bag one requires persistence, skill, and even a little good luck. |
Contact us to book your coyote hunt.
To sign up for our Coyote Hunting Newsletter click here.
Rates:
Full day: (any 24 hour period, hunt as long as you want)
1 hunter - $200/day
2 hunters - $350/day
3 hunters - $450/day
4 hunters - $500/day

Half day: (any 6 hour stretch between midnight and midnight - your choice)
1 hunter - $150
2 hunters - $265
3 hunters - $340
4 hunters - $375

Lodging: Stay in our comfortable hunting lodge for $30 per person per night.

Remember: there's no bag limit on coyotes! Fox (until March 31) and Fisher (until Jan 31) are also legal game! Remember to bring your camera, because you may just get a photo of a bobcat or bald eagle hitting the bait!

Turn the great 'hunter' into the 'hunted'!

A big, north-woods coyote or fox pelt will look great on your wall.

We offer hunts over active baits, in heated ground blinds. You'll be comfortable in any weather inside of our comfortably heated, fully-enclosed blinds.

(click on any image for larger version)

Our most active bait hunts run from Jan. 1 through April 1.

Coyotes are apt to hit a bait at any time of the day or night, but they generally hit the baits harder at certain times. Generally, the best time to sit a bait is on a night with a clear sky - with a good moon it's almost like daylight all night long and the coyotes are usually quite active. Generally (like deer hunting), the next most active times are first thing in the morning and late afternoon/dusk. These are just general guidelines - many coyotes have been shot over bait at high noon, so sit as long as you can!

If you catch the situation right you'll be in for an unbelievable coyote hunting experience!
The Hunt: We offer coyote hunts over active baits.
Young Hunters Free: Young hunters, up to age 17, hunt with us at NO CHARGE. These hunters must meet all state requirements, and be accompanied by, and hunt with, a parent or guardian (in the same blind). Only one free young hunter per paid adult. Free young hunters do not count in total number of hunters for group rates.
Season Dates: Open season all year. Our hunts -- January 1st to April 1st
Lodging: You can stay in our lodge for an additional $35/night per person.
License Requirement and Cost: As of 2009 a small game license is no longer sufficient to hunt furbearers. A regular big game NH hunting license required to hunt coyote. Click here for NH hunting license rates
Deposit Required: A 50% deposit must be received within 10 days of booking hunt. The balance is due upon arrival. Deposits are necessary to hold your date(s) of hunting. Due to the fact that your deposit secures our services for a specific time; unless we can book someone in your place, it will not be refundable.
Bag Limit: Unlimited
Items to Bring: A rifle: .22-250, .222, .223, .243, 6mm, .257 are all a good choices, but many other calibers are fine also. It's much more important that you can hit what you're shooting at than it is to use a fancy gun - if you're comfortable with the old .30-30 in your closet, then bring it along. All blinds are within 120 yards of the bait sites.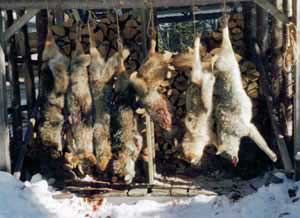 Contact us today, and you'll be enjoying a great coyote hunt before you know it!