Turkey Hunt
| | |
| --- | --- |
| | Hunt New Hampshire's wild turkeys! |
To sign up for our Turkey Hunting Newsletter click here.
We are offering no turkey hunts for the 2012 season.
Congratulations Paul !
20 lbs. = 10 inch beard = 1 inch spurs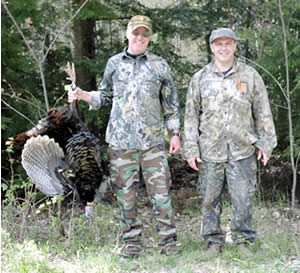 Want to try your hand at bagging a nice turkey?
Contact us if interested - first to contact us gets preferred date choices!
The Hunt: We feature
We heavily pre-scout our hunting territory to ensure that we give our hunters the best opportunity available for a quality hunt. At times we can accommodate one day turkley hunts, although weekends are generally reserved for 2+ day hunts.
Hunting Hours: 1/2 hour before sunrise to 12 noon.
Legal methods: Archery or shotgun (10, 12, 16 or 20 gauge shotgun using 2, 4, 5 or 6 size shot)
Seasons: The 2007 Spring Shotgun Season extends from May 3-31.
License Requirement and Cost: Click here for NH hunting license rates
Deposit Required:A 50% deposit must be received within 7 days of booking hunt. The balance is due upon arrival. Deposits are necessary to hold your date(s) of hunting. Due to the fact that your deposit secures our services for a specific time; unless we can book someone in your place, it will not be refundable.
Bag Limit: One bearded or male turkey may be taken by shotgun or bow per hunter.
Hunt Cost: $225 per day for one hunter. $350 per day for 2 hunters. Maximum of 2 hunters per guide.
Book your hunt today and you'll be enjoying a great hunt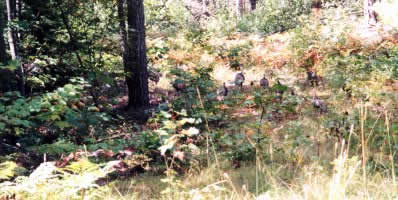 Identification
The male bird, or tom, is brownish black with an iridescent sheen with black and white barring. The long tail has a wide, black band at the end with a tip of varying color. Red folds of skin, called wattles, are found beneath the chin; fleshy, wart-like caruncles on the neck and a fingerlike snood hanging beside the bill. A 4- to 10-inch projection of feathers, called a beard, dangles from the breast. The hen is smaller and browner, lacking the tom's head adornments. The juvenile male is called a jake and the female a jenny. Jakes typically develop a beard after the first year.
Characteristics
Toms measure 36-44 inches long and weigh 17-28 pounds; hens, 26-30 inches and 8-12 pounds. Individuals require from a few hundred to more than a thousand acres of ground with a combination of trees for roosting, a reliable water source and an open feeding area. In spring and summer, they prefer openings in or near the woods, with dense grassy cover at least 3 feet high. In winter, they seek more densely wooded habitat. Wild turkeys move seasonally between nesting and wintering areas, but seldom travel more than two miles. They winter in flocks before dispersing into three sexually segregated groups: hens, jakes and toms. Wild turkeys are extremely vocal with many different calls, particularly during the breeding season. Toms gobble and "putt," and hens yelp. Lost birds occasionally make "kee-kee" calls.
Breeding
Before dispersing into segregated flocks according to sex, toms will display their breeding behavior. With tail fanned, features fluffed and wing tips dragging the ground, the tom will strut while emitting low-pitched hums. The strutting and displaying will continue as he occasionally gobbles until attracting a hen. Breeding occurs in early spring, with specific months varying according to range and subspecies.
Feeding
Wild turkeys feed on plant material, including acorns and other nuts, small grains, and the seeds, shoots and roots of plants. They will also feed on insects and small amphibians such as lizards. The generally fly down from roosting areas to feed at daybreak before returning to the trees in the evening.
Hunting methods
Wild turkeys have outstanding hearing and sight, making them one of the wariest of all game. It takes a patient hunter to outsmart one of these birds, one who is fully camouflaged and adept at making the various sounds using a call. Even then, tempting the bird to come within range of the shotgun or bow and arrow is one of the ultimate challenges in hunting.
Table quality
Excellent; arguably better than the domestic turkey.
The wild turkey population in the U.S. now exceeds pre-settlement days, due in part to the cooperative efforts of state agencies and the National Wild Turkey Federation.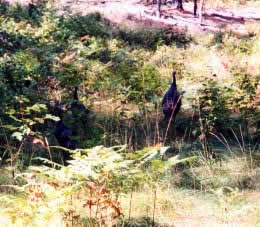 Contact us with any questions or book your hunt today, and you'll be enjoying a great hunt before you know it!